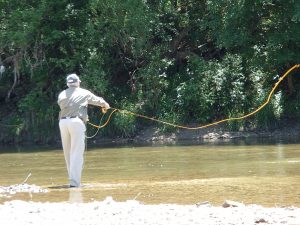 The heartland Fly Fishing Festival is a fly fishing show HELD AT THE BOONE cOUNTY 4h fAIRGROUNDS IN Lebanon, IN. Hours for the event are 9am – 5pm on Saturday and 10am – 4pm on Sunday.
Hosted by Project Healing Waters Fly Fishing, the Festival is focused on fly fishing and the techniques and tools that allow anyone to pursue the sport.
SILENT AUCTIONS ON SATURDAY –FLIES, FINE OUTDOOR ART AND FLY GEAR AND SELECT ITEMS. ALL SILENT AUCTION ITEMS BENEFIT PROJECT HEALING WATERS FLY FISHING ORGANIZATION
The show is for anyone new and interested in learning to fly fish, and the fly fisher who has developed a passion for the sport. From novice/beginner to professional this show will have something for everyone interested in fly fishing. A special kids casting and tying area will get them started right.
The show will host exhibitors, presenters and fly fishing guides. Guides will talk shop and trips, fly shops will demonstrate the latest gear, and fly fishing representatives will have equipment available for tryout.
Notables from the fly fishing community will join us. And you should too. This two-day event promises to be exciting and educational.
Casting demonstrations, clinics, educational seminars will be presented by fly fishing personalities throughout the two-day event. Small watercraft (kayak, canoe, single person craft, drift boat) exhibitors will be in attendance. Fishing lodges, outfitters and guides will show you how, and if you already think you know, will show you more.
Ticket price: $10.00 daily-$15.00 two-day pass.
Kids 10 and under are free. Active duty and separated military with ID are free. Programs will differ each day.

The Heartland Fly Fishing Festival thanks the Boone County Convention & Visitors Bureau for their generous support.
Hosted by